Missed spa day or want to continue the pampering experience? Try out some of these all natural, do-it-yourself recipes that use simple ingredients found at most local grocery stores (plus a few essential oils). Some of our own MOPS moms tried out these recipes. Check out their comments (in italics) below.
Dupe of Lush's Oat Fix Facial Mask
Lush's Oat Fix Mask was originally designed for dry, sensitive skin. This version uses four pantry staples (oats, olive oil, banana and honey) to create a simple knock-off.
"I wasn't able to blend it in a blender (couldn't find mine at the time). It did work well though. Light and gently on my face, but made it soft and smooth:)." ~ Kelly B.
DIY Soothing Lavender Face Mask
This yogurt based mask hydrates and calms, and with its lavender scent, its the perfect choice for a little pampering before bed.
3 Easy Hair Masks
Three easy options: 1) coconut oil mask for dry, thirsty strands 2) banana mask to strengthen thin hair and 3) avocado hair mask to revive your strands.
"I just did the coconut oil and none of the olive oil. I figured I would use what I have. I loved it! You wouldn't need to use it very often because it is very nourishing! I added a bit of lavender essential oils and made it smell super yummy and some of it even stayed in my hair after. I smelled pretty good. It did take a bit to wash it out of the hair, so do it when you have time and are not in a rush!" ~ Angela F.
Homemade Lavender Coconut Oil Salt Scrub
Wonderful Epsom salts and coconut oil combine for a simple scrub. Enjoy it in the original lavender scent or try out different essential oils to change things up.
"An exotic destination in you shower. The down side is that the stuff is a little slippery but that disappears when you towel off. It is luxurious and you don't need to apply lotion afterwards." ~ Tricia R.
Homemade Brown Sugar Scrub
This four ingredient scrub is a great gift option for Mother's Day or other special occasions.
Rosemary Mint Sugar Scrub
A mix of sugar and salt give this mixture its scrubbing power while the rosemary mint essential oil fill the bathroom with a relaxing, stress-relieving aroma.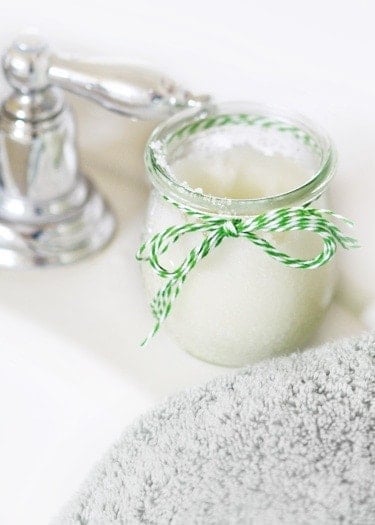 "I've tried a couple DIY scrubs, and so far, this is my favorite. It was easy to mix up and the combination of salt and sugar seemed to make the scrubbiness last longer. For a carrier oil, I used regular coconut oil with a little bit of olive oil and a squirt of vitamin E. The oil mixture kept the coconut oil from hardening up, making it easy to apply." ~ Kristen V.
Lemony Foot Scrub
Get your feet ready for sandal weather with this cornmeal and oatmeal based foot scrub.
---
Kristen is a wife and mother who likes to pretend that she can cook, write and create. She is a little compulsive when it comes to cleaning and organizing and has an ever growing love of dark chocolate, tea and Jane Austen. But mostly, she is a woman trying to figure out how to live a life she can be proud of.